Super Smash Bros. 3DS krijgt Pokemon X en Y-level Lumiose City
De 3DS-versie van de nieuwe Super Smash Bros. krijgt een stage gebaseerd op Lumiose City uit Pokemon X en Y. Op zijn beurt is Lumiose City weerd gebaseerd op Parijs, zoals aan de enorme toren in het stadscentrum te zien valt.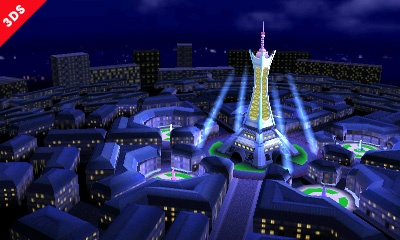 Op MiiVrese meldde SSB-bedenker Samurai: "The Prism Tower rises above Lumiose City. Up until a few seconds ago, the fighters were brawling on top of that tower. No, really." Het lijkt dus mogelijk te worden om te knokken op het topje van de Eiffeltoren, hoe vet is dat?
Super Smash Bros komt ergens dit jaar uit voor Wii U en 3DS. Een specifieke releasedatum is nog niet bekend.